Frances Domingues
Expanding thought to the element of frequency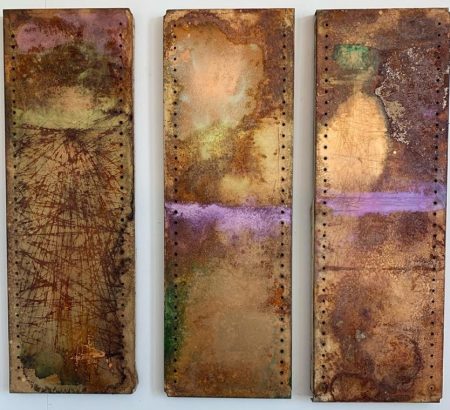 Frances Domingues is an abstract found object artist working with vintage industrial metal as canvas, layering acrylic, mixed media and oxidation creating dynamic high vibrational artworks. "Working with metal as an artist is like co-creating with the Universe, there is a reaction to everything I do." Frances's work embodies connection with source energy through representations of constellation and astral maps of the universe, translations of energy.
Frances practices meditation as part of her process to allow the energy of the piece to flow through her as much artist as energetic conduit. The work itself is inspired to be a vortex|portal of resonance and high vibration.
You can find Frances and more of her work at Wedge Studios in the River Arts District, fdfounddesign@gmail.com or on Instagram: https://www.instagram.com/fdfounddesign
The Lobby Gallery is curated by Sara LeDonne. Gallery hours are Tuesday-Friday 10:00 am -4:00 pm and when the Box Office is open for Mainstage shows.