The Blog
January 29, 2011
Community Outreach: The Autumn Players
Looking for high-quality entertainment for your retirement community, classroom, social organization, business meeting, civic club, private function or public event? Consider hosting a performance by The Autumn Players!
Currently, The Autumn Players offer a variety of short plays plus one act plays presented in a Readers Theatre Style format. Our repertoire also includes a musical duo performing old time favorites, stand up comedy and monthly scheduled poetry readings for Senior communities. We bring everything we need, and require only a few weeks' notice! No fees – but donations accepted and appreciated!
To book a performance, please connect with The Autumn Players at Asheville Community Theatre at 828-254-1320.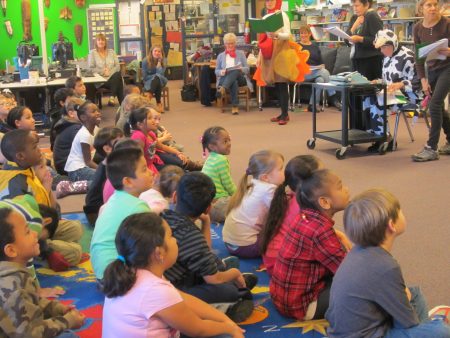 Bring theatre into your classroom!
Teachers, now you can easily enrich your classes with works by:
* O.Henry
* Mary Shelley
* Edgar Allen Poe
* William Shakespeare
* Anne Frank
* Bram Stoker
* Anton Chekhov
* Sir Arthur Conan Doyle
This troupe of seasoned actors has been taking the theatre experience into the community since 1992 and has a repertoire of classics adapted to fit your class periods. Brief descriptions are below.
ADAPTED CLASSICS
Mystery And Mischief
Sherlock Holmes meets his match in William Britain's adaptation of A Scandal In Bohemia. But Old Hank and Snake Eyes cannot match the freckled kid in William Sydney Porter's (aka O. Henry) The Ransom Of Red Chief as adapted by Janina Shoemaker and Kevin McKee.
Romeo And Juliet is synonymous with young love plus parental disapproval leading to a major misunderstanding resulting in tragedy. Timeless! Adapted by Nels Arnold.
Frankenstein
Mary Shelley (1797-1851) introduced the science-fiction genre in 1818 by recounting the dilemma of animating lifeless matter. Adapted by Janina Shoemaker.
Edgar Allen Poe (1809-1849)
His moods were many as reflected in: The Murders In The Rue Morgue, a mystery; The Angel Of The Odd, a fantastique; The System Of Dr. Tarr And Prof. Fether, a humoresque; Annabel Lee, a poem. Adapted by Janina Shoemaker.
Dracula
Though Bram Stoker (1847-1912) never visited Romania, it was no accident that his vampire story of 1897 was set in the wildest and least known portion of Europe. Adapted by Clinton Betz, Jr. and Georgeanne Hoegerman.
Chuckles with Chekhov
Though Anton Chekhov (1860-1904) is well known for his depressing Russian tragedies, few know of his rich collection of comedy. Adapted by Janina Shoemaker.
The Diary Of Anne Frank (1929-1944)
You are 13 and your parents say that you must all live in an attic to hide from the Nazi occupation. You don't understand. Months pass. Then years. You record daily events, your thoughts, changes in others and changes in yourself until… Adapted by Janina Shoemaker.
Return to all posts >