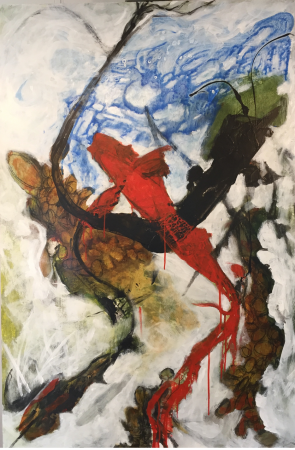 Reb Haizlip
Reb is an architect by training and painter by vocation. He is the founder and emeritus head of Haizlip Studio, a national architecture and design practice focused on work advancing cultural communities, informal education and civic vitality. Over the past thirty-five years, he has directed a fascinating array of museum, higher education, civic and mission-driven projects across the country and around the world. A large portion of these projects have been innovative learning environments for children and families for which he was elected to the American Institute of Architects College of Fellows in 2016.
With an eye towards a change of pace and possessed of a lifelong passion for drawing (on everything), Reb took up painting with pastels six years ago and turned to the brush shortly after. This is his first public showing.
He is inspired by our natural world, his garden, the American abstract expressionists and other artists who have maintained the difficult course of creativity.
Artist statement:
There are two separate threads to this work. For the small pastels, one day delighted to discover a loose and unselfconscious 3rd grade charcoal still-life in an elementary school drawing pad being discarded by his mother, Reb decided to use up the paper with the artist's maxim, work on technique every day without concern for outcome. These are a one-a-day select number. In aged awareness, they are inspired by the non-objective work of the American abstract expressionists.
The larger pieces are acrylic and oil pastel on panel and reflect Reb's love for the natural world. Nature is a recurrent subject in his paintings, as it was a focus of his professional career. Reb believes that by creating access and encouraging exploration of natural places real or imagined, it is possible to ignite bonds of affection and to trigger senses of preservation and protection of our natural flora and fauna.
The Lobby Gallery is curated by Sara LeDonne. Gallery hours are Tuesday-Friday 10:00 am -4:00 pm and when the Box Office is open for Mainstage shows.