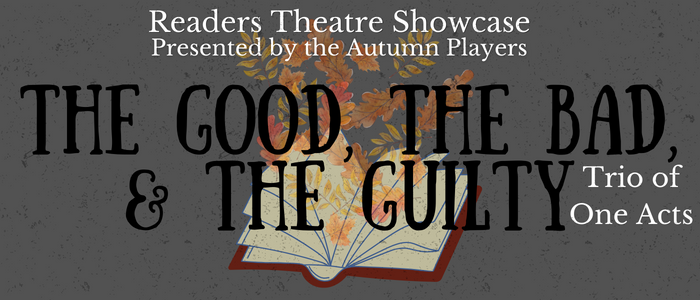 RTS: The Good, The Bad, & The Guilty
Directed by Margaret Crowell
April 14-16, 2023
All performances at 2:30 pm
Friday and Saturday performances are held at Asheville Community Theatre; Sunday performances are held at the Reuter Center on the campus of UNCA. 
The Good, The Bad, and The Guilty is presented as readers theatre by The Autumn Players.
A Trio of One-Acts
What dramatic truths lie behind a woman's strange laugh, a suitor's palpitating heart, a whistle in the night, or an Irish ballad singer and a hundred pound reward? When will the small rise up and the big fall down? When will we all change places? Three one-act plays explore how we seek to embrace – or escape – the ties that bind us.
The Rising of the Moon by Lady Gregory
Trifles by Susan Glaspell
The Proposal by Anton Chekhov
Buy Tickets