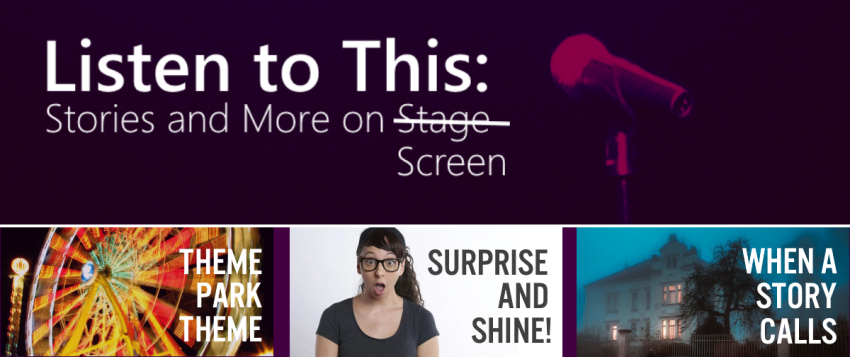 ACT Rewind: Listen to 2020
Hosted by Tom Chalmers
Through March 31, 2021
Available as Video on Demand
Hit rewind and watch (or re-watch!) the best Listen to This shows of 2020!
Hosted by local actor and comedian Tom Chalmers, Listen to This is an evening of stories and songs from some of Asheville's most interesting writers, performers, and citizens. Each installment features a central theme. Real people. Real stories. Real good times.
Theme Park Theme: True Amusement Park Tales Meant to Amuse – Originally aired July 30, 2020
Featuring stories by Bryan Morrisey, Alison Fields, Delina Hensley, and Karen Stobbe, plus songs by Kim Richardson
Surprise and Shine: True Tales of Unexpected Events – Originally aired October 1, 2020
Featuring stories by Tessa Fontaine, Corr de Joch, Shelagh Ratner, and Rod Murphy, plus songs by Silas Durocher
When a Story Calls: True Tales of In-house Horrors– Originally aired October 29, 2020
Featuring stories by David Novak, Andy Corren, Waylon Wood, and Rebecca Morris, plus songs by Rebecca O'Quinn
Each episode is available as a 48-hour rental. Once you purchase your ticket, you will receive a unique link to stream the episode. Once you click "Start Streaming," you'll have 48 hours to stop, start, rewind, or rewatch the episode!